Author Events
"If anybody needs to be inspired to get up when you've been kicked down, and say thank you to whoever or whatever gave you the boot, I'm your speaker!" – Amelia Frahm
With a professional career that began when she was hired to convince South Texans to build a nuclear power plant in their backyard, Amelia Frahm  has survived and can speak with candor on just about anything.
She is an expert at tackling contentious topics and putting them in a format that both children and adults find entertaining as well as educational.
Amelia has appeared on radio and TV segments across the country and has been a member of the National Cancer Survivors Day Speaker's Bureau since 2002.
If you would like to schedule Amelia Frahm to speak to your audience contact her at Amelia@NutcrackerPublishing.com or 1-919-924-2058.
Excerpts from some of Amelia's speaking events:
Anthrax
"The hometown hero (me) got shoved off her pedestal by terrorism and I was no where near New York City, I was in Minnesota."  Womens Health & Fitness Expo, Minneapolis, MN.
College
"Never say never. When I was in college I was so shy I took a failing grade rather than get up in front of my class and introduce myself.   Well here I am– and pretty much everything I said I'd never–I've done, been or married."   HOLLA Literacy Festival, Wadesboro, NC
Family

"In Tickles Tabitha's Cancer-tankerous Mommy, I portrayed the Mommy as irritable, mean, and moody or as the real Tabitha would tell you, just like her real Mom, only nicer." Longaberger Horizon of Hope Luncheon, Cedar Rapids, IA
Marketing
"To survive cancer I had to take my medicine, the same can be said for marketing a children's book, only instead of a pill I had to swallow humiliation, rejection, and my pride."   3M,  Hutchinson, MN
National Publicity
"It was like finding out I had breast cancer at age 34, only this time instead of crying hysterically I laughed hysterically."   FOX 10, Mobile, AL
Nuclear Power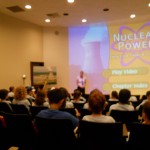 "…they were visiting the nuclear plant waiting for a spaceship that was supposed to drop by and refuel.  Nothing I could make up about my experience at a South Texas Nuclear Plant could be as farfetched as the truth."   Ridgewater College, Hutchinson, MN
Publishing
"One year I was in the audience, afraid to raise my hand to ask a question, the next year I was the guest speaker."  Mom's Writers Talk Radio, Higley, AZ
Surviving Cancer
"A victim fears tomorrow, a survivor lives life as if there is no tomorrow-despite her fears."  National Cancer Survivor's Day, Winston-Salem, NC
Appearances and Events:
Growability Silent Auction: Chattanooga Earth Day Rally Celebrating Science, Ross Landing City Park, Chattanooga, TN. April, 22, 2017 @ 3 PM
March for Science-Knoxville, Ayres Hall, UT Campus Knoxville, TN April, 22, 2017 @ 11 AM
Oak Ridge, TN 2015 Christmas Parade
Kingston, TN  2015 Christmas Parade
Triangle Susan Komen Foundation, PinkFest, Oct. 6, 2013.
Community Day, Harris Nuclear E&E Center, New Hill, NC,  Sept. 7, 2013
Wake Co. Energy Camp, Harris Nuclear Plant,  July 10, 2013
Shaftesbury Society Luncheon John Locke Foundation, April 15, 2013  Buy Tickets
Wilmington, NC  Inaugural Susan G. Komen Race for the Cure 2013
Walk With Sally Book Fair, Barnes & Noble, Manhattan Beach, CA  Sept. 15, 2012.
Wake County Envirosafari, Raleigh, NC  July 11, 2012.
Rotary Club of  Crabtree, Raleigh, NC  June 7, 2012. 
W. J. Carroll Elementary, Daphne, AL  May 17 2012
Escambia Academy, Canoe, AL  May 10,2012.
Daphne Elementary, Daphne, AL  May 8, 2012.
Daphne East Elementary, Daphne, AL  May 7, 2012.
ZTV-11/ Cooper & Company, Athens, AL  May 1, 2012.
Nutcracker Publishing's Annual Easter Egg Hunt, Apex, NC  2012.
WYAM TV-51, Decatur, AL  March 21, 2012.
Palacios Intermediate School, Palacios, Texas, Feb. 28, 2012.
Steele Creek Elementary, Charlotte, NC  Feb. 22, 2012.
Lennie Roberts Elementary, Bay City, Texas, Jan. 20, 2012
Matagorda Elmentary, Matagorda Beach, Texas, Jan. 19, 2012/PM
Cherry Elementary School, Bay City, Texas,  Jan. 18, 2012.
Blessing Elementary School, Blessing, Texas Jan. 17, 2012
Holy Cross Catholic School, Bay City, Texas, Jan. 12, 2012.
Van Vleck Elementary School, Van Vleck, Texas,  Jan. 11, 2012.
Speaker, Sunrise Rotary, Apex North Carolina, Dec. 20, 2011.
Keynote Speaker, Apex Rotary Club,  Apex, North Carolina,  Dec. 08, 2011.
Author Booksigning, Mainstreet Coffee Bar, Bay City, Texas,  Dec. 10, 2011.
Guest Speaker, Power Woman Magazine Radio, Hot Springs, Arkansas, Dec. 15, 2011.