Press Kit
Media Information

Looking for a compelling story to share with your audience?

Life is never as easy and always more interesting than a press release.  Let award-winning children's picture book author, Amelia Frahm, divulge to your audience what goes on behind the scenes.
Like when she was asked to join a group of women at the local nuclear plant while they waited for a spaceship to refuel, or how Tickles Tabitha's Cancer-tankerous Mommy survived anthrax to appear on the Rosie O Donnell Show, and why her latest book is being called disgusting propaganda.
About Amelia.     Her Bio.    Cancer Advocacy.        Her Blog.
Contact her at:
Amelia@NutcrackerPublishing.com or 919-924-2058.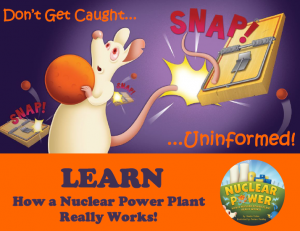 At the Nutcracker Publishing Company, it got… so hot fish jumped out of the ocean already fried….
Prompting Frahm's November 15, 2011 blog: "What an Ex-porn star and a Nuclear Power Author Have in Common: Condemnation!"
We are melting down with excitement as we present: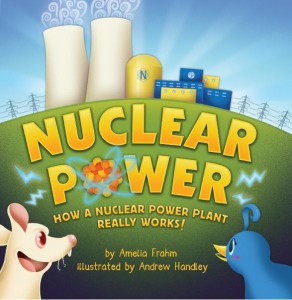 Nuclear Power: How a Nuclear Power Plant Really Works!
Illustrations by Andrew Handley
Price $9.95
ISBN:  9780970575227
Mom's Choice Award Recipient.
Synopsis:
A chubby lab rat and a pretty blue bird speculate, exaggerate, and blame everything they don't understand about nuclear power on their arch-enemy, a cat named Penelope, who they suspect designed the nuclear plant so she could use electricity to cook them for dinner.  Unknown to them Penelope is a vegetarian.
Sept. 1, 2012 The Literary Showcase BlogTalkRadio/The Master Communicator
May 23, 2012 Daphne Kids 'Power' Up: Author teaches about nuclear power, fear of the unknown Gulf Coast News Today, AL
May 17, 2012 EA Students Learn about Nuclear Power Tri City Ledger, Flomaton, AL
May 01, 2012  ZTV Author Interview with Gloria Cooper Cooper & Company, Athens, AL
April 2012  Recommended /Nuclear Literacy Project
April 2012  Writing for Kids: Tackling Adult Issues with Childlike Interest Apex NC Chamber of Commerce Magazine
March 20, 2012 Educating Students about Nuclear Science: Mousetraps and PingPong Balls? ExpertClick/LISWire
March 19, 2012 Call to Action: Educate and Encourage Students about Nuclear Science ANS Nuclear Cafe
February 28, 2012 National Engineers Week RCS Nuclear
January 19, 2012  All About Nuclear Energy Matagorda Advocate
January 6, 2012 Children's Book on Nuclear Power…. Wind & Solar
January 5, 2012  Frahm with fans of her family-friendly book about nuclear power NewsReleaseWire
January 5, 2012 Children's Book on Nuclear Power Named among the Best in Family-friendly Media LISWire
December 8, 2011 Children's Book Inspired by STP Matagorda Advocate
December 8, 2011 Former South Texas Project Teammates Children's Book STP Notes
December 5, 2011 Nuclear Power: That's How Santa lights his Christmas lights! Video
October 25 2011 Explaining the Nuclear Power Plant in the Backyard to Children Library Newswire
May 2, 2011 Nuclear Power: Unveiling the Cover … ExpertClick
May 2011 Writer aims to explain Nuclear Power to kids Raleigh News & Observer
What Makes a Nuclear Plant Nu-cle-ar? Video
Bored yawns and bewildered glances were the typical responses Amelia Frahm encountered when she announced her next children's book was about nuclear power plants. The Fukushima nuclear accident in Japan changed that perception.
Disinterest is no longer a factor, the nuclear community has given the book a thumbs up and it has has been called everything from, "the best in family-friendly media, products and services," by the Mom's Choice Awards to "disgusting propaganda " and its author a  "nuclear pedophile," who ought to be ashamed of herself, by anti-nuclear extremists.
She responded to her critics saying, " I knew from past experience that in the aftermath of a nuclear disaster a children's book about nuclear power plants would not be a welcome edition on everyone's bookshelf, but I believe that fear, whether it's of cancer, nuclear power, or a cat named Penelope, is fueled by a lack of knowledge and misinformation. If you have read my book you know it provides children an opportunity to learn about nuclear power in a format that is neither pro or con, but fun and informative. If you have not read it – shame on you for attacking something you know nothing about."
Amelia Frahm  is better known for advocating cancer awareness than nuclear power. In 2001 she helped pioneer cancer resources for children when she published Tickles Tabitha's Cancer-tankerous Mommy.
Tickles Tabitha's Cancer-tankerous Mommy
Illustrated by Elizabeth Schultz
Price $9.95
ISBN: 0-9705752-0-3
Ben Franklin Award Recipient
Synopsis:
The book depicts the emotional and moody behavior of a mom with cancer and the stresses and strains placed on a family by the mother's diagnosis. Her behavior is caused in part by the medicine she must take to cure her cancer. Told through the eyes of young Tabitha, who is upset her cancer-tankerous Mommy is in no mood to play Tabitha's favorite game. The book uses candor and comic reality as it acknowledges some of the realities faced by families coping with cancer.
Author Profile
In 1994,  Amelia Frahm was 34 years old when she was diagnosed with breast cancer. Her children were two and four years old.  Cancer was still being whispered above the heads of young children. When she could not find a children's book that addressed the mood swings and irritable behavior she often exhibited in front of her children she wrote her own story. Large publishing houses rejected her book idea, but in 2000 in honor of her best friend, Laura Bouldin Karlman she established Nutcracker Publishing Company and with the release of Tickles Tabitha's Cancer-tankerous Mommy helped pioneer cancer resources for children.
Nutcracker PublishingCompany was founded in 2000. The company publishes children's books that educate, entertain, and make it easier to establish a dialogue between children and adults about difficult subjects such as cancer and nuclear power. Nutcracker Publishing Company is based in North Carolina.  Crack Open a Book!
Nutcracker Publishing's Story.
In 2001 when Frahm first published her children's book about cancer talking to her own children about cancer raised eyebrows and taking a cancer awareness program to school was unimaginable!  But by 2006 reality TV had made talking about anything imaginable, so Nutcracker Publishing  introduced Tickles Tabitha, and implemented Crack Open a Book!'s cancer education curriculum.  The first cancer awareness program for children written by a cancer survivor.
Today programs on nuclear power are also available. Frahm's first professional job was at a nuclear power plant and one of her first assignments was to create a school program.
What do  Frahm's picture books about cancer and nuclear power have in common?   According to their author,  "both seek to dispel fear by providing information."
Archives
Videos
What Makes a Nuclear Power Plant Nu-cle-ar?
Press Releases / Articles / Reviews
Spotlight: A Tale of Productive Tenacity, Independent Book Publishers Association, Nov. 2011
Explaining the Nuclear Power Plant in the Backyard to Children ,Oct. 2011
Always New You, Oct. 2011
Nuclear Power: Unveiling the Cover …May 2011
Life Changing…. A Cancer Book for Kids, Sept. 2011
Mommy MD Guides, Aug. 2011
Explaining Nuclear Power to kids/ http://www.southwestwakenews.com/ May 2011
Writer aims to explain nuclear power to kids /Raleigh News & Observer/May 2011
Florida Magazine/Page 11/The Next Chapter Summer 2010
Woman Survives Cancer and Thrives as Children\'s Book Publisher April 2010
Author Amelia Frahm selected to Keynote for from Surviving to Thriving March  2010
The Talking Stick Newsletter/ Tickles Tabitha\'s Mom\'s Journey March 2010
IBPA: Members in the Spotlight, Jan. 2010
Doctors have mixed reviews on new Mammography Recommendations/ NBC 17 Nov.  2009
Interview with Children\'s Book Author Amelia Frahm/Associated Content Nov. 2009
Standing Up to Cancer/ MSNBC Oct. 2009
How One Woman Beat Cancer and Established her Career Oct. 2009
Tweeting Breast Cancer Awareness Oct.  2009
Breast Cancer: Ten things a Survivors Teenage Daughter Needs to Know Sept. 2009
Conquering the C Word/ Decatur Daily/ Associated Press, Decatur, AL  Aug. 2009
Survivor Writes Book Explaining Cancer/ Dothan Eagle/ Associated Press Aug. 2009
With You We Stand/ Stand Up to Cancer Org. Aug. 2009
The Daily Pink/Cancer Awareness School Program Oct. 2007
April 9, 2006
Children feel the effects of treatment
The News & Observer (Raleigh, NC)
October 14, 2004
Dick Youngblood: Tickled over book's success
Minneapolis Star Tribune
July 27, 2002
Who Needs Chocolate? Ten Thousand Dollars is Sweet Enough
PRWeb
February 17, 2002
Anthrax Targets Author – Her Book Survives
PRWeb
November 4, 2001
The Power of Choice Media Information