Book: Tickles Tabitha
Tickles Tabitha's Cancer-tankerous Mommy!
ISBN: 978-0970575203
LCCN: 00-108751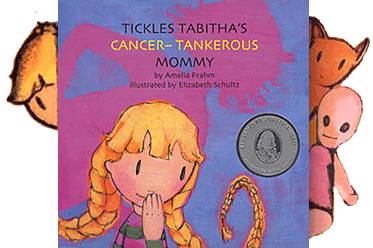 Young readers will ask to be tickled until their faces turn pink!
Order from Amazon.
or
Paypal:
Told through Tabitha's eyes, Tickles Tabitha's Cancer-tankerous Mommy uses candor and comic reality to acknowledge the moody truth!
Mommy's rat-tailed hair is standing straight up, her crooked horizontal mouth is zigzagging as it yells out demands, and her cheeks are puffed up like a bullfrog's. Worse of all she's in no mood to play Tabitha's favorite game.
Tickles Tabitha's Cancer-tankerous Mommy is a family like your own family; not the family you think you ought to be — surviving cancer.
Written by a cancer survivor.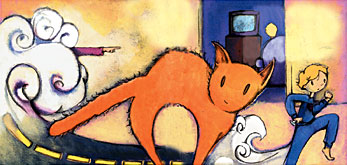 Tickles Tabitha's Cancer-tankerous Mommy has been recommended by literary, medical, and cancer awareness groups across the country. Here's what some of them had to say:
Hurricane Voices Breast Cancer Foundation– "A valuable and insightful tool for families coping with cancer…it provides a note of humor, reassurance, and hope." info@hurricanevoices.org
Carol Watkins, Psychiatrist, Baltimore, MD-"Mood changes are more difficult for children to understand than the more concrete aspects of an illness. This book does an excellent job of showing these moods. The story is realistic without being scary. This book would be good not just for children of cancer patients but also for children of parents with other chronic diseases such as Hepatitis C.A variety of illness and treatments can cause an individual to be irritable or moody."
Rosie O'Donnell– "a great way to get your kids to talk about cancer."
Susan G. Komen Foundation– "covers even how the delicate infrastructure of day- to-day family issues between husband, wife and children are changed by cancer."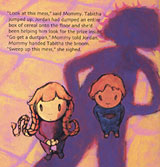 Randi Kaye CNN-News Correspondent, Atlanta, GA
"I was so touched, it's (cancer) not an easy topic to convey and Amelia Frahm's done it."
MAMM Magazine, Special Edition Family Matters- Winter 2002
"Support for Kids who have a parent with cancer."
Professor Joann Ludemen Yost, Bethel College, St. Paul, MN
"Engaging and educating from the dramatic opening to the touching ending, I found myself mesmerized.
Charla McMichael, R.N. B.S.N. Oncology, M.D. Anderson, Houston, TX
"This book is a unique and powerful tool that can help any family facing this unfortunate situation."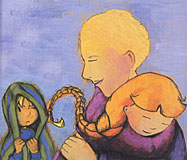 The Midwest Book Review, July 2001
"A clarity and candor laced with humor and insight. Very highly recommended for school and community library "health issues" collections."
Today's Librarian, Sept. 2001
"It takes a humorous approach to one of the many down sides of battling cancer- being cantankerous. Eye-popping, gloriously colored."
Today's Dallas Woman, October 2001
"Includes the sudden hush children feel whenever their world isn't what they expect."