Book: Nuclear Power
Nuclear Power: How a Nuclear Power Plant Really Works!
ISBN: 9780970575227
ORDER NOW: $9.95
Paypal: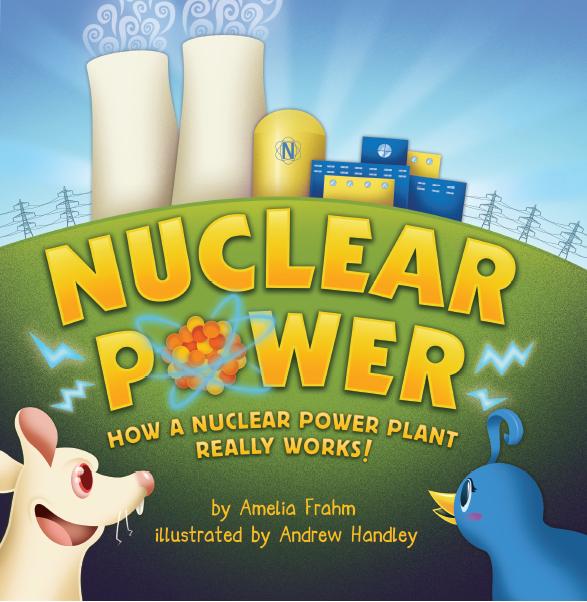 Named among the best in family-friendly media, products and services in the Science & Technology and Children's Picture Book categories.
Please let us know how you like Nuclear Power – How a Nuclear Power Plant Really Works by writing a review on askDavid.com
At the Nukie Nuclear Power Plant, inside the nuclear reactor that sat beneath the big dome, (a.k.a. Reactor Containment Building) a whole lot of fissioning was going on. Where did it come from? Where did it go?
A chubby lab rat and a pretty blue bird think they know. They speculate, exaggerate and blame everything they don't understand on their arch-enemy–a cat named Penelope, who they suspect designed Nukie Nuclear Power Plant so she could use electricity to cook them for dinner. Unknown to our experts, Penelope Cat is a vegetarian.
What makes a Nuclear Power Plant NUCLEAR?
Check out our book trailer:
Birderson Cooper LIVE…with The Meltdown.
What other Experts are saying:
Nuclear Literacy Project:.."a perfect introduction to nuclear fission for kids of all ages…."
21st Century Science & Technology Magazine: …"Refreshingly, there are no politically correct caveats, just simple rhymes that cover the basics of how a reactor works."
Midwest Book Review: …"a children's illustrated informational text about understanding nuclear power whose time has come."
Independent Publisher Select Title. "Recognized as the best of the newly released, independently published titles."
American Nuclear Society's Nuclear Cafe, "I originally wrote this post as a book review, but after three or four edits, I realized that I couldn't mask my biased opinion…I adore this book…."
Atomic Insights, "If you have a young person in your life who loves a good page turner with colorful illustrations, I highly recommend placing an order for future deliver."
"What a joy, to realize that now kids can learn the basic facts about nuclear energy without first being scared witless by talk of duck-and-cover, Mutual Assured Destruction and Faustian Bargains…."
-Dr. Theodore Rockwell, Famed Nuclear Expert and author, The Rickover Effect and Creating the New World.
"Amelia Frahm has written a charming book about where our electricity comes from, and, most specifically, how it's made in a nuclear plant. The illustrations by Andrew Handley work perfectly with the rhymed text. Adults may also benefit from reading this book!"
–Gwyneth Cravens, author of Power to Save the World: The Truth About Nuclear Energy.
"The illustrations are awesome as well as the story line! The story is easy to follow, and the use of the bird, cat, and rat will hook children. Amelia Frahm has done a terrific job on this book; it will sell like hotcakes!"
–Sue Pecora, Kindergarten Teacher, Putnam County School System, Cookville, TN.
"Amelia Frahm's new children's book offers an accurate and age appropriate look at an often misunderstood energy source: Nuclear Power. "Nuclear Power: How a Nuclear Power Plant Really Works" allows parents and teachers to address the subject in a fun and interesting way. The current energy crisis is something we must communicate about with our children, and Frahm offers a way to start that dialogue."
–Suzanne Hobbs, Executive Director and Contributing Artist, PopAtomic Studios.
"Frahm has jumped onto an important concept with her new children's book. It's so powerful to educate our youth on Nuclear Power before they develop some scary misconceived notions. Whether we agree with Nuclear Power or not, we should at least be knowledgeable about how it works and, Frahm's book gives children a big step up in this arena."
–Nikki Stone, author, When Turtles Fly, motivational speaker, Olympic gold medalist, and parent.
"There's no need to wonder any longer how to explain nuclear power to my kids. As a Mom of three, I encourage reading and love helping my kids explore interesting subjects. Until now, I hadn't thought of how to explain nuclear power to my kids. Amelia's book takes a complex, often controversial issue, and turns it into a fresh, fun learning adventure. I've long admired Amelia's quirky and lightly humorous writing style, becoming a fan after her first children's book years ago. "Nuclear Power: How a Nuclear Power Plant Really Works" is sure to join the ranks of her book, "Tickles Tabitha's Cancer-tankerous Mommy" as a one-or-its-kind resource for parents!"
–Beth Gasser, a.k.a., Confessions of a Mom.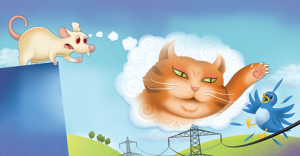 "Anything that goes wrong for a bird or rat, or raises questions or eyebrows, I blame on a cat," declared the rat.
Nuclear Power: How a Nuclear Power Plant Really Works!
by Amelia Frahm
illustrations by Andrew Handley
ORDER NOW: $9.95
About the author:

In the 1980's Amelia Frahm was hired by a power company to work at the South Texas Project Nuclear Power Plant, southwest of Houston, Texas. One of her assignments was to create a school program for elementary children. How a Nuclear Power Plant Really Works! is the children's book she wished for then—a creative, entertaining way to pique children's interest in nuclear power plants that they wouldn't find boring.