School Programs
Whether it's nuclear power plants or cancer awareness, our educational programs take the complicated and put it into terms even adults will understand.
Author Visits:
Read, write, publish, and learn what it takes to market a successful children's picture book from someone who's done it. Schedule a visit with Tickles Tabitha, and award-winning children's picture book author, Amelia Frahm.
To schedule your visit contact Amelia at Amelia@nutcrackerpublishing.com or call her at 919-924-2058.
Nuclear Literacy Program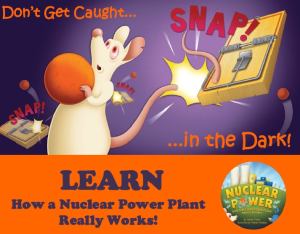 What others have said about our nuclear school presentation:
"…a perfect introduction to nuclear fission for kids of all ages…", Nuclear Literacy Project.
Call to Action: Educate and Encourage Students about Nuclear Science, ANS Nuclear Cafe. 
All About Nuclear Energy, Matagorda Advocate.
Ever wonder how a nuclear power plant really works?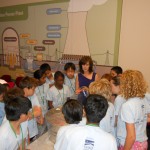 Crack Open a Book that Radiates Brilliance! Let a lab rat whose tail is tip- less, and a pretty blue bird with a bald spot where her tail feathers should be, explain: How a Nuclear Power Plant Really Works!
There's a whole lot of fissioning going on inside a nuclear reactor. Where did it come from? Where did it go? If you'd like to learn more about nuclear energy, call us at: info@nutcrackerpublishing.com to schedule a presentation.
Cancer Awareness Program
The first cancer awareness school program written and implemented by a cancer survivor!
Our cancer education curriculum integrates cancer awareness, character education and introduces children to Tickles Tabitha.  The program is divided into six segments educators may choose from.
Students read Tickles Tabitha's Cancer-tankerous Mommy, and discuss how Tabitha's family used character traits like kindness, caring, and perseverance to cope with the stresses and strains caused by her Mommy's cancer diagnosis.
Despite the serious topic, children will have fun as they do enrichment activities inspired by the characters in the book, such as creating a ribbon of courage, making up their own silly songs and a relay race to clean up Tabitha and Jordan's kitchen mess.
The program may be adapted to fit the needs of health care educators and other groups or organizations interested in promoting cancer awareness.
Educational Resources
Our cancer awareness program curriculum is available at no cost to nonprofits that recommend the program or list it in their resource library.
Educators in the state of Florida may obtain Crack Open a Books Cancer Education Program by going to the Florida Department of Education's Lending Library.  It is located in the Coordinated School Health section at  http://doehealthlibraries.cites.fsu.edu/'s (yellow apple) under the title: Crack Open a Book, or author:  Frahm, Amelia.
Educators in the state of North Carolina may check out the program at the NC Lending Library at www.ncei-eclibrary.org.